Checking my email the other day I discovered that The Dood's blog was selected to be included in the Feedspot Top 100 Bitcoin Blogs. I received a graphic to display on my blog, and I linked back to the website hosting the top 100 blogs. It's a great list and if you like reading about cryptocurrency news and current crypto events, you really should check it out.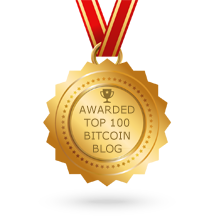 I am honored and humbled to be listed among some of the great names listed there. The list includes all our favorite news sources like, NEWSBTC, Cointelegraph, Coindesk and more. There are some great names in crypto listed there like Andreas Antonopoulos, Vinny Lingham, MadBitcoins and other great internet personalities. I honestly feel the blog isn't worthy to be included among these names, but am truly honored that someone chose to include it in the list. I haven't been blogging as much as I would like to lately, and I think this was the motivator I needed to get writing again. BitcoinDood.com… is a labor of love and a project I work on in my spare time. I need to start making more time for writing here.
Thanks to everyone that has helped to support this project, with your comments, retweets, shares, likes and links. One of the best decisions I ever made was getting involved in the cryptocurrency space. I've met some of the funnest people on the internet, and learned so much from all of you. Thanks for your continued support, and I look forward to interacting with you all in the future!
You can view the Feedspot Top 100 here.